At Lucas Equine Equipment, we have a variety of on-staff experts. These professionals include coatings specialists, an architect, trend watchers and materials experts.

Submit your questions…or scan the responses below to learn more about horse stall product selection, design, construction and maintenance. You can also see our Frequently Asked Questions page for answers to some common questions.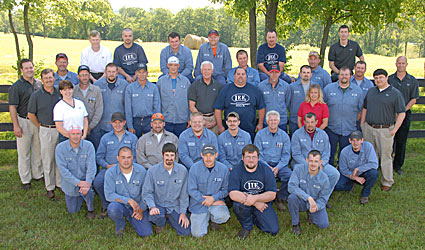 I have existing stalls, and one of my horses is getting his mouth on the ball of the spring bolt latch to let himself out. What can I do to prevent this?
-Amy from Georgetown, Kentucky
Answer from Nick, Lucas Equine Equipment Sales Manager
Some horses are experts at opening latches, amazingly enough! In this instance, I would recommend creating a safety bar and mechanically fasten it to the existing stall door (so as not to disturb your paint finish during attachment). This will block the horse's access to the latch, but still allow you to have access to the latch from both inside and outside the stall.
We've effectively built and installed safety bars like I'm describing in some instances before. No matter what solution you implement, make sure that humans can still easily operate the latch from inside the stall.

---
Door Damage from Manure Spreader
One of our assistants ran into our LEE stall door with a manure spreader. The door is still functional, but it made some scrapes and marks on the finish. What are my options for re-painting?
-Scott from Rancho Sante Fe, California
Answer from Mike, Lucas Equine Equipment President
If your door has only suffered scrapes or marks, then you can touch up the affected areas. We offer aerosol touch-up paint and touch-up instructions for our standard colors. This process is pretty simple, and will save you the time and cost of either wet painting or powder coating the entire door.

---
Sliding Door vs. Hinged Door...Recommendations?
I have some stall design ideas for the barn I'm getting ready to build. But, I'm trying to decide between hinged stall doors or sliding stall doors. Do you recommend one design over the other?
-Sarah from Franklin, Missouri
Answer from Nick, Lucas Equine Equipment Sales Manager
Both types of doors work very well in a horse barn. I almost always prefer a sliding door. Sliding doors are usually easier for the operator. Horses don't have to manuever around open doors and sliding doors with proper tracks and latches should easily open with one hand. However, certain aesthetics or barn layouts may prevent the use of a sliding door. We build and design quite a few of each type of door. Ultimately, this choice comes down to preference of the barn owner.