Stall & Oats Blog
Renovations: Tobacco Barn - Horse Barn Conversions

June 29th 2010

0 comments

Author: Nick Thornton, Sales Manager

---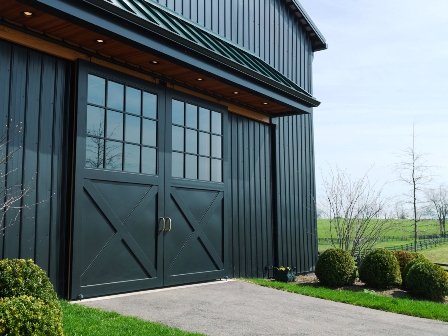 Tobacco barns dot much of the rural landscape of Kentucky, giving a glimpse into what was once a
booming industry for the state. These barns were built to house tobacco as it cured. The tobacco leaves were tied to tobacco sticks and hung in the barn to dry. (We'll talk about why the nature of the curing process makes tobacco barns prime candidates for horse barn conversions later in this post.)

Today, I'm proud to see many of these beautiful structures being converted to horse barns. As a native Kentuckian with strong ties to my family's tobacco-farming roots, I tend to hold a special place in my heart for designing and building stalls for a tobacco barn conversion.This trend is not only preserving some of the architectural history of Kentucky and surrounding states, but also offers farm owners an economical way to add horse stables to the property.
At Lucas Equine Equipment, a large number of the stalls we're building these days are designed for these types of barn renovations. In fact, we work with many builders and architects all over the country who specialize in barn renovation and have years of experience converting various types of barns into horse barns.
Tobacco barns can make particularly good candidates for conversion to horse barns due to three key factors. First, they're abundant in areas of the country like Kentucky, North Carolina, Virginia, Pennsylvania and surrounding states. Secondly, they have tall roofs, plank walls and an overall design that offers great ventilation. Remember, the efficient flow of air was/is vital to the tobacco curing process. Finally, they can save money on construction costs, if much of the existing structure can be used. We work with so many qualified architects and builders with experience in projects like these, I'm always happy to connect farm owners with some of these experts.
Although a barn renovation of any sort can seem like a daunting task, with proper planning and considerations, you can get beautiful, functional stalls, while still saving money. I'll cover a few of the key considerations for a tobacco barn conversion below, but there are several more steps along the conversion process.

1. Is my structure sound? For instance, is the roof intact? How sound is the foundation? It's easy to want to jump right to questions of style, colors and design, but the question of structural soundness should be the first consideration.
According to Coleman Callaway of Broadview Buildings, Inc., a Lexington, Kentucky general contractor that focuses on equestrian properties, before you even begin a barn renovation project, talk to an expert. "Have them inspect key structural elements first," suggests Callaway. "Fully understanding the current state of the structure will help you effectively plan your project, budget appropriately and create a final product that will withstand many more years of use."
Callaway notes that there are several things to consider, such as possible insect damage, does the structure need a poured foundation, and what is the make-up of the lumber used in construction. "For example, if a roof has been leaking for years, you're more likely to find rot in the structure."
2. Do I need to accommodate support posts? Many old tobacco barns and other types of structures were built with large support posts. You'll need to know exactly where these posts are located and how far apart they are spaced. Horse stalls may need to either mount to these posts or work around them. When renovating an existing structure, custom-built horse stalls will offer you the most flexibility, since they are built around your specific measurements. Contrary to popular belief, these types of custom stalls are not always more expensive than off-the-shelf systems.

3. How will stalls be laid out in this structure? There are several key options to consider when designing the layout of your stalls in any barn renovation. You can either elect to renovate your barn with modular components or build interior walls and windows into your barn structure, to which your stall doors will mount. This decision is mostly rooted in style preferences, since one choice is not always more expensive than the other. A good contractor can build front walls that match the look of your barn exactly, like they've been there for years. But, there's much more labor involved in built-in walls. Stall front panel systems are quick to install and offer a variety of options that match your stall doors.
Depending on the size of the renovation and your tendency for DIY, you may want to call in some experts. Architects, builders and stall manufacturers can provide excellent – and often money-saving – assistance on your project. Architects and builders can help determine the soundness of your structure. Good stall manufacturers can make recommendations on stall design to maximize safety for your horses, offer options on hardwood selection and suggest the appropriate paint or coating for your style and environment.
When it comes to barn renovation, whether you're converting an old tobacco barn, a dairy barn or even an existing horse barn, do your homework and research, research, research. The architectural drawings we create for all our customers' projects, including stall renovations, provide a real-life vision of what your renovated stalls will look like. However, no drawing can replace good old-fashioned research when it comes to getting exactly what you want.
So, did this blog post just whet your appetite for Kentucky-style barns? I invite you to visit us during the 2010 World Equestrian Games in Lexington, Kentucky, September 25-October 10, 2010. We're located just 30 miles from the Kentucky Horse Park, plus we'll also be showcasing our products at the Trade Show area at the site of the Games. I hope to see you then!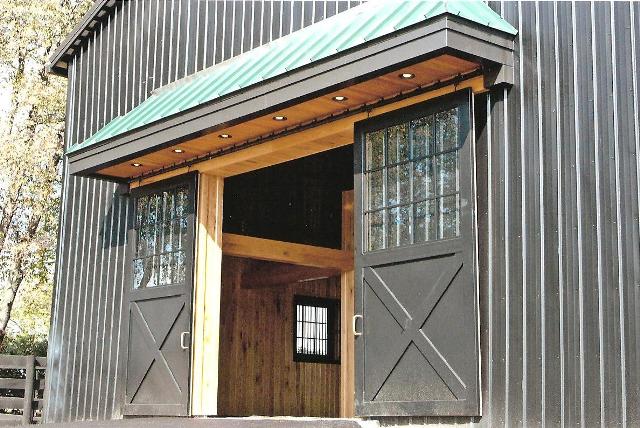 Above, you see a tobacco barn that was converted to a 12-stall horse barn. It features Lucas Equine end doors, windows and stalls.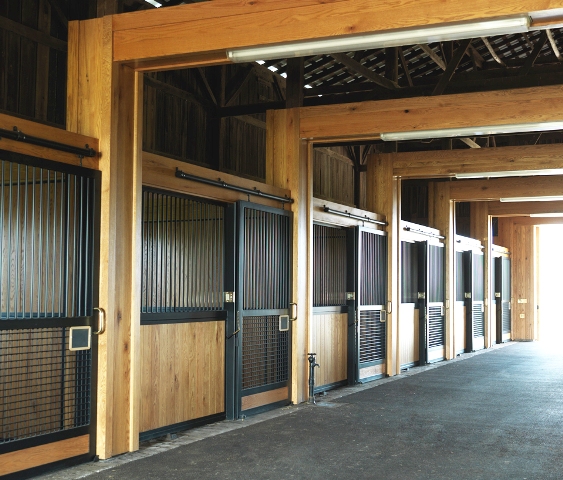 In the interior shot above, you can see how the farm owner retained much of the tobacco barn character by keeping the old barn trusses exposed. However, he brought in more contemporary elements with new stalls and wood headers. The lumber for this project by farm owner Richard Sturgill was provided by Pine Mountain Lumber Company.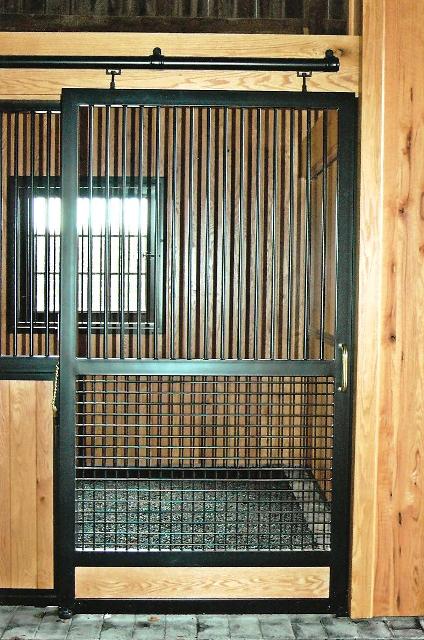 Above, you can see that windows were added to the barn in each stall area to provide even greater ventilation and offer additional light.
To read more about tobacco barn conversions and other types of renovations, visit these links below:
---
The Secrets behind Kentucky-Style Horse Barns

February 12th 2010

1 comment

Author: Mike Ravenscraft, Lucas Equine Equipment President

---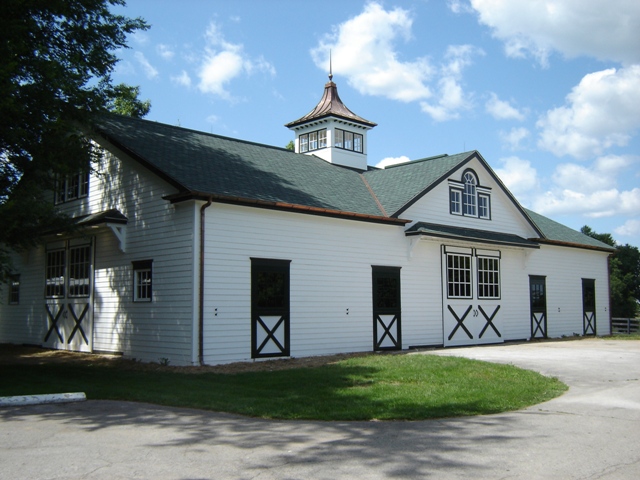 Being born and raised in Kentucky, it's easy for me to take our state's great equine heritage for granted. However, just last week I was reminded to step back and take a good, fresh look at the uniqueness of our region when our company showroom happened to be full of out-of-state visitors. They were each pretty impressed with the equine facilities and designs that originate here in Kentucky.
I always encourage people to visit our facility and see some of our equipment in action, but this was a particularly busy couple days, with several different customers visiting us:
- One farm owner flew in from California with his construction manager and designer. They were viewing our equipment in action as they are beginning the design phase of their project with our Company.
- A couple from Illinois building a new boarding and training facility was visiting to get ideas as we began designing the stalls for their barn, touring several farms in the area with our sales manager, Nick.
- Farm owners from Tennessee were taking a tour as they begin the plans for renovating one barn and building a new one, as well.
- A client working on a project in the Middle East was meeting with our design staff to discuss various styles and potential designs.
When folks from all over the country and the world come to Lucas Equine Equipment to see our products, we love to take them to the Thoroughbred farms in our area for a taste of the work we do…and a taste of the Kentucky style. (Ok, and sometimes a taste of good Kentucky bourbon while we're at it.)
The "Kentucky style" for horse stalls is a style we've been building for years. And, while we love to build the ornate Euro-style horse stalls – with fancy swooping designs and brass ball finials – I hold a special place in my heart for the classic and super-functional Kentucky-style horse stalls and barns.
Kentucky-style stalls are traditionally designed to house "hot-blooded" Thoroughbreds, known for their agility, speed and spirit. And, with Kentucky continuing to be the largest Thoroughbred foal-producing state in the U.S., many Kentucky barns are designed with this particular breed in mind.
It is interesting to me that we're increasingly seeing farms from other equine disciplines incorporating elements of this functional, high-quality style into their facilities.
Typically, Kentucky-style horse barns and stalls are characterized by a few key features:
1. They're designed primarily for optimal functionality.
Here's why: The large Thoroughbred operations we work with can be made up of eight to ten 20-stall barns. When running a business this extensive, it's imperative that everything in the barn be designed to operate efficiently and offer extreme durability with minimal upkeep.
2. Each stall usually has an exterior door with tempered glass window, and a pre-hung screen is placed between the stall and the exterior stall door.
Here's why: Ventilation and sunlight. In the summers, these sturdy pre-hung screens can provide security for the horses, while the exterior doors stay open to create great airflow through the stalls. In addition, horses can easily be evacuated through the exterior doors in case of fire. The tempered glass (protected by the pre-hung screen) lets plenty of sunlight in for warmth during the colder months, as well as energy-efficient lighting.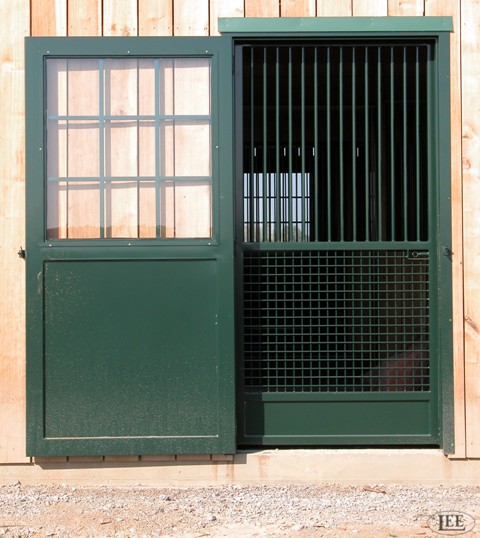 3. Exterior doors often feature a cross-buck decorative design.
Here's why: Today, this is purely an aesthetic detail. In the days before steel doors, the cross-buck provided extra support to the door.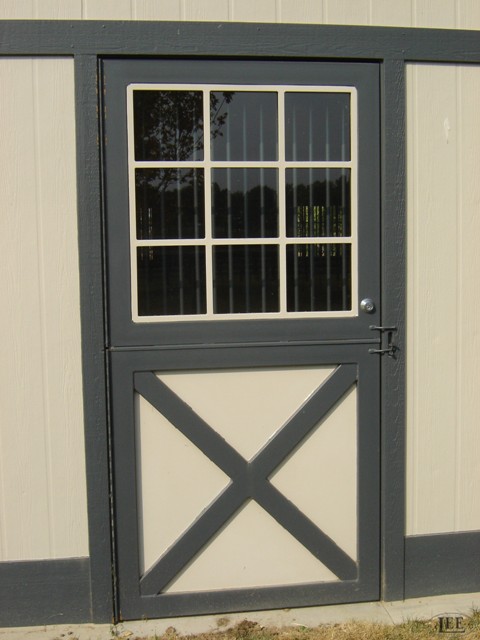 4. Interior stall doors are usually all crosshatch mesh or grills-above-crosshatch mesh with no yoke.
Here's why: In a traditional Kentucky-style horse stall, ventilation is key. The all crosshatch mesh or grills-above-crosshatch mesh design helps pull air from the barn's center aisle through the stall and out the exterior stall door. It helps keep ammonia vapors from accumulating in the bottom portion of the stall. Because many of these Kentucky barns house lots of horses, the elimination of yokes keeps safety at the forefront.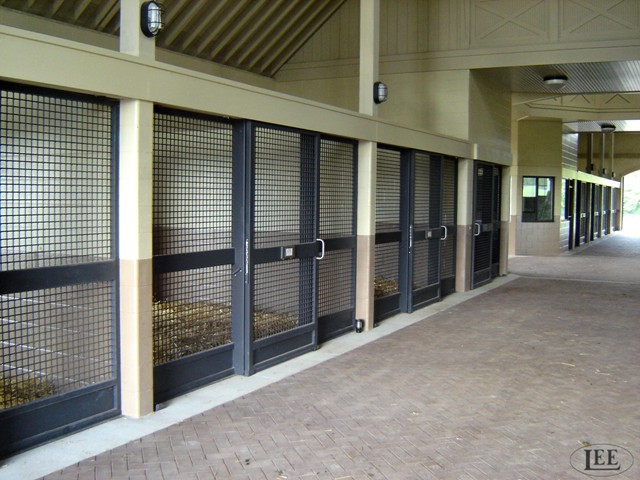 5. Almost all Kentucky-style stalls have sliding interior doors, versus swinging doors.
Here's why: Again, those Thoroughbred farms that feature 20-stall barns are all about efficiency. Sliding doors with sturdy track systems keep the aisleway clear and ease traffic congestion. Tack trunks and equipment are not stored in aisles, maximizing space in that area.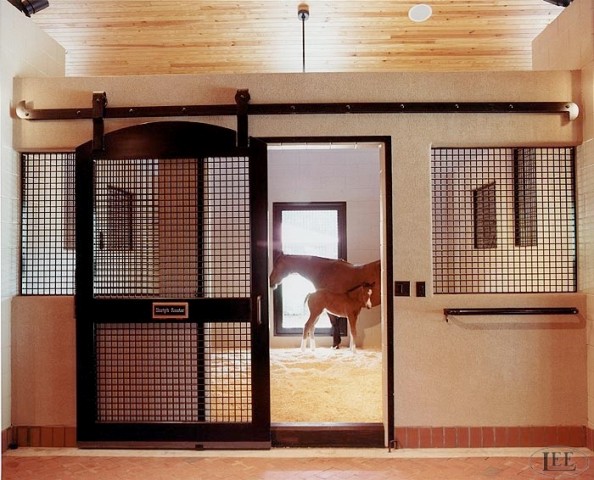 6. Cupolas are a common barn design feature.
Here's why: Today, cupolas are sometimes added only for aesthetics. Originally, they were built onto barn roofs to allow the moist, hot air to rise and escape from the barn, helping keep hay dry and stalls cool. Some cupolas today still provide those functions.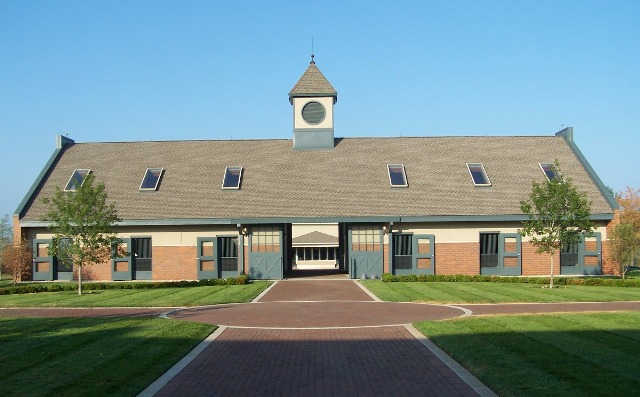 7. Many barns feature a cross aisle, in addition to the center aisle.
Here's why: A cross aisle adds two more exits/entrances to the barn for efficiency and increases the amount of airflow running through the facility.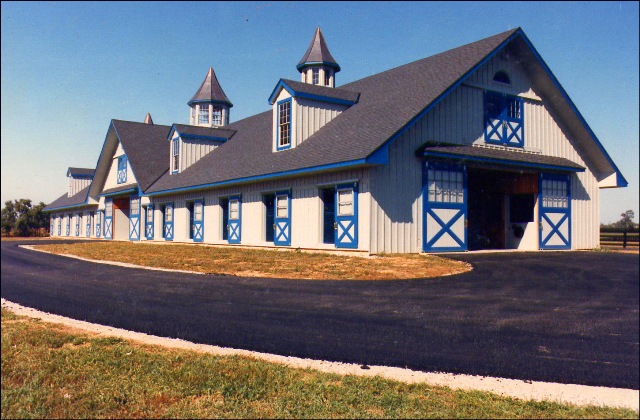 Now, the Stallion Barns in Kentucky are a whole different story. These barns are often full of fancy details. We frequently design and build solid wood doors with arches or other decorative details for these barns. The stud fees of these horses can justify the extra details incorporated into these Stallion Barns.
You can see some of these facilities for yourself. I'm including links to some of these Kentucky operations:
http://www.winstarfarm.com/farm.aspx
http://www.shadwellfarm.com/gallery.aspx
http://www.vinery.com/photo_gallery.asp?id=55
http://www.threechimneys.com/gallery/
Coming Soon: I'm loving the current trend of converting Kentucky tobacco barns into horse barns. Check back for my upcoming blog on this popular "adaptive re-use."
---
Iron Rose Ranch: Pairing steel doors with Mother Nature

January 22nd 2010

0 comments

Author: Nick Thornton, Sales Manager
As I was gathering images to use on our new
web site
, I came across one of my most interesting projects that I'd like to share with you:
Iron Rose Ranch
in Carbondale, Colorado. This project was particularly unique because we built interior and exterior doors DESIGNED to rust.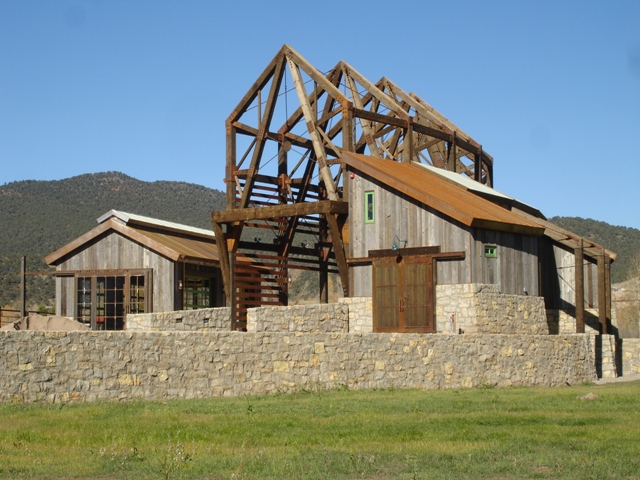 When building with steel, you are always fighting Mother Nature, constantly working to protect the steel from weather. At Lucas Equine Equipment, we regularly prime and powder coat or hot-dip galvanize our equipment to help prevent rust. We're kind of obsessed with creating flawless, long-lasting finishes.
However, when I received a call from GH2/Gralla Equestrian Architects about a project that required rusted steel doors, I was quite surprised. What? Rusted doors? Isn't that what I'm always working to prevent?
The plans we received from GH2/Gralla were for a maintenance building for Iron Rose Ranch, a breeding and training facility for competitive cutting horses. They needed sliding and hinged doors for interior and exterior use. The design was compelling, and I couldn't wait to tackle a project like this!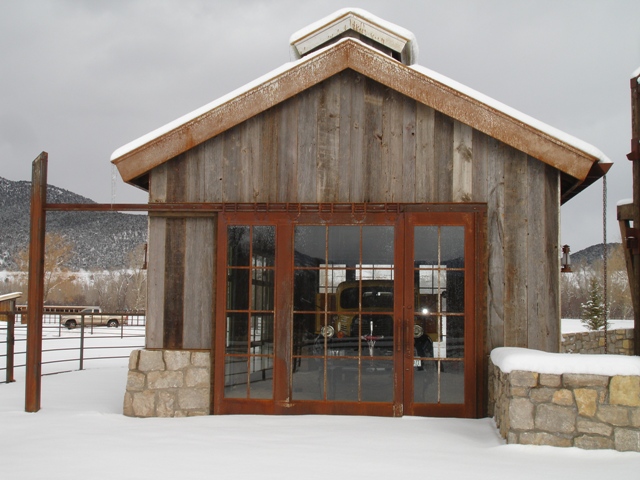 Pre-rusted steel is sometimes used to create a rustic aesthetic in architectural structures in other industries. However, this was definitely a first for Lucas Equine Equipment. When designing these unique doors, my biggest challenge was making sure that the tracks and carriers on the sliding doors still operated easily when they began to rust. So, we used parts designed not to seize when exposed to moisture.
After we designed and built these doors, the rusting process was accelerated by an acid bath. In fact, the very smooth, clean steel that we use for all our doors is ideal for this process. This high-quality steel will develop the rusted look much more evenly when exposed to this acid bath.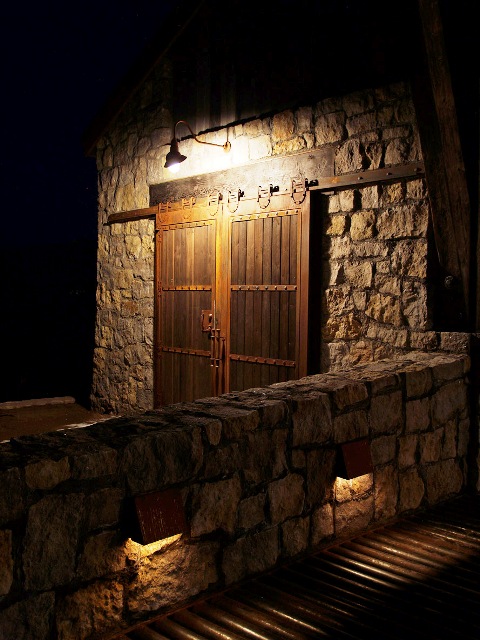 In some of the pictures I'm including, you'll see how the pre-rusted doors add to the look of this rustic structure. The round and diamond-shaped rivets and hardware on the doors further accentuate this style that's both rustic AND modern. I hope you enjoy these images...I sure enjoyed working on this project. Pretty cool.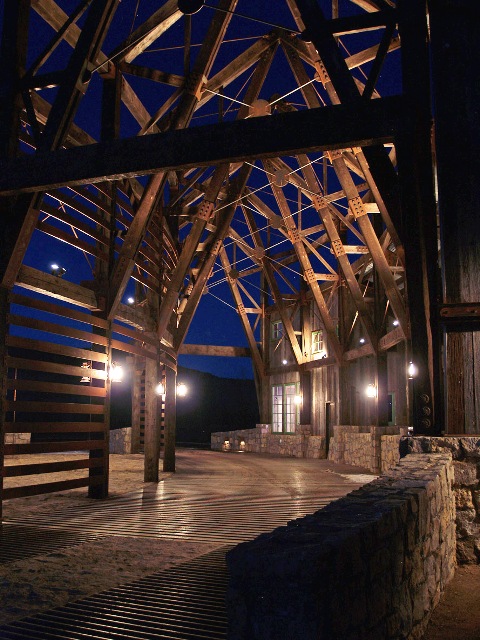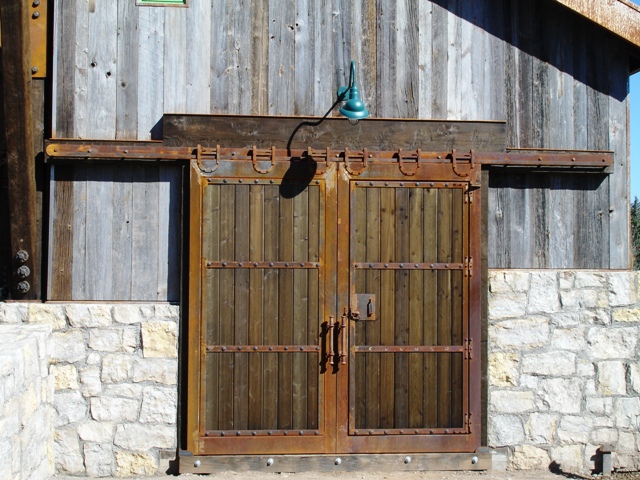 ---
[ Click here to see the archived blogs ]
Check out our RSS Feed.