Newsletter: March 2010
Trends in Coatings: Powder Coating, Galvanizing, Wet Paint

Whether you already have stalls and doors in place, or you're thinking of installing some in the future, get the most for your money by understanding the pros and cons of every viable option for paints and other coatings.
Below, you'll read about the differences in Powder Coating, Hot Dip Galvanizing and Wet Paint. Selection depends on three things:


1.

Your environment

. Do you have excessive amounts of salt or moisture in your area?
2.

Appearance

. How important is a smooth, seamless appearance for your style and the aesthetic of your facility?

3.

Maintenance

. Are you willing to perform occasional maintenance to keep up the appearance of your equipment?
---
Powder Coating
Powder coating will give you the smoothest, most uniform finish of all types of coatings. At Lucas Equine Equipment, we use blemish-free steel and grind the weld seams smooth to ensure a flawless powder coated finish. Then, the powder coating forms a smooth protective "skin" over the steel.
When properly cared for, most high quality powder coated finishes can last several years. Powder coated finishes from Lucas Equine Equipment are applied in a two-step process.
First, a zinc-rich primer is applied to create a protective base coat. This step ensures good adhesion. Secondly, a coat of

Super Durable Powder Coat

paint is applied and baked to a hard finish. The Super Durable Powder Coat paint used by Lucas Equine Equipment is a specially formulated powder coating designed for

superior gloss and color retention

. This Super Durable Powder Coat paint also provides excellent outdoor weathering capabilities.
Lucas Equine Equipment offers nine standard colors, and a total of 190 specialty colors, as well as custom color formulations.
Powder Coating Pros & Cons
---
Hot Dip Galvanizing

Not all galvanizing is created equal. There are two types of galvanizing:

pre-galvanizing and hot dip galvanizing

. Pre-galvanized material receives a thin coat of galvanizing material prior to product assembly. The protective galvanized coating is - however - burned off when the material is welded together, eliminating the initial rust reduction of the pre-galvanizing process.
Hot dip galvanizing, on the other hand, provides outstanding protection from rust, creating a thick, scratch-resistant and virtually rust-proof coating, even in coastal areas that receive regular salt exposure.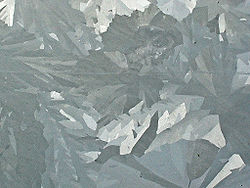 To properly galvanize steel equine equipment, the stall, door or gate is first completely constructed, welded and cleaned. Then, the entire product is dipped into a bath of molten zinc. At this point, the zinc bonds to the steel, creating several layers of a durable zinc-iron alloy.
Lucas Equine Equipment products are built in a way to allow the zinc coating to run inside the steel components, protecting both the inside and outside of the steel.
Hot dip galvanized products can usually be identified by the crystallization pattern that covers the surface.
Hot Dip Galvanizing Pros & Cons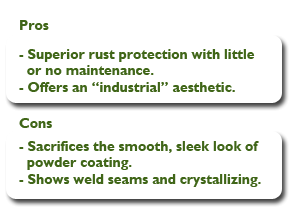 ---
Wet Paint
Prior to the wide acceptance of powder coat paint, wet paint was the most common type of painting for equine equipment. Wet paint is still an option today; equipment can be built, cleaned and primed by manufacturers like Lucas Equine Equipment. Then, the builder or farm owner can apply wet paint once the product is installed.
This may provide some advantages, such as the ability to use the same paint and exact color used elsewhere on the property. However, it also requires increased labor costs for painting, the

potential for drips, runs and brush marks, and a finish that is less resistant to fading, chips or scratches

.
Wet Paint Pros & Cons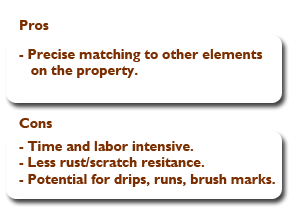 ---
Key Points

At Lucas Equine Equipment, our

on-staff experts

can help you determine the best coating for your location, application and style preferences. We also offer touch-up paint for your current Lucas Equine products, to help you maintain your powder coated finish.