Newsletter: March 2011
---
Stall Partitions: Which style is right for me?

Sure, selecting stall fronts is one of the exciting parts of designing your barn. However, selecting the right design for your stall partitions can really make or break the functionality of your stalls.

The design of your partitions should be based on the temperament of your horses, the primary use of your stalls, and the climate in your area. Read about several stall partition options below, and check out the article at the bottom of this page for photos and ideas for each style.
1. Grill or Crosshatch Top / Solid Bottom
This style offers some cross ventilation through the grills, as well as the potential for socialization among stall neighbors.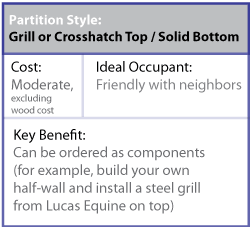 2. Grill or Crosshatch Section with Privacy Panel / Solid Bottom
This style still offers some cross ventilation, but also allows great privacy for the horses, especially during dinnertime.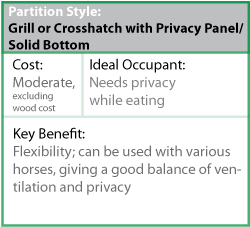 3. Solid Panel
Solid partitions can either be built into your barn structure by your builder or they can be created by Lucas Equine using a component or full panel system. Solid panel partitions can be created from wood or masonry. They provide the ultimate in privacy.
4. Full Crosshatch or Grill / Crosshatch
A fully ventilated panel offers the ultimate in airflow and durability. These can either be made entirely of Lucas Equine's super sturdy crosshatch mesh: 5/16-inch solid steel rods, welded at every single joint, or with a grill on top and crosshatch mesh on the bottom.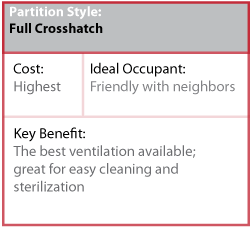 Contact us to learn about how each of these partition styles can fit with your favorite stall design.
---
4 Design Ideas for Stall Partitions
#1: Grill or Crosshatch Top / Solid Bottom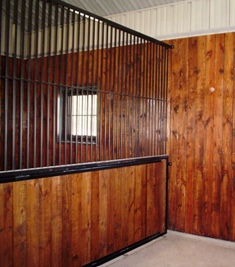 This partition features a component-based system with a steel grill on top, as well as wood slats that fit inside steel channels
#2: Grill or Crosshatch Section with Privacy Panel / Solid Bottom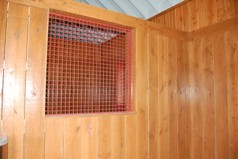 This partition features wooden sidewalls for privacy with a small crosshatch window for ventilation
#3: Solid Panel Designs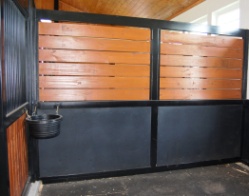 This partition has a wood top with a slight ventilation between the lumber and a rubber coating over the bottom part of the panel.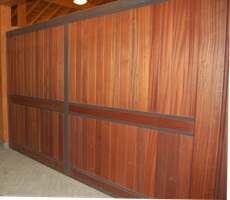 This solid partition features steel channels exotic hardwood for a sturdy and private partition.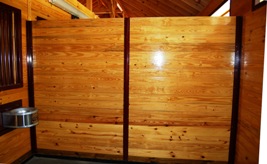 A steel wall stiffener and steel channels make this panel system easy to disassemble for flexible stall layout.
#4 Full Ventilation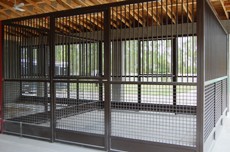 For ultimate ventilation in a hot climate, these stall panels feature a grill top and crosshatch mesh bottom. Other options include a full crosshatch mesh panel.
Other designs can include arching or swooping partitions, or other creative ideas. Contact us with your ideas or questions about stall partitions.
---
Pinlock Latch for Sliding Stall Doors
Safety & Simplicity...
The pinlock latch from Lucas Equine is an easy and reliable latch for sliding doors. This simple design of a pin and chain fits inside a wall sheath to secure your sliding doors

Here's how it works:
1. This latch is installed at the opposite end of the door from the handle.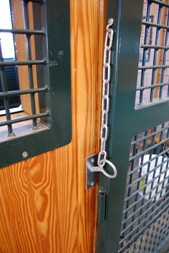 2. A strong pin, attached to the door by a chain, keeps the door from sliding when the pin is inserted into the sheath.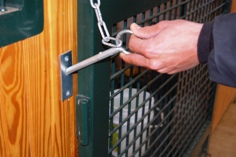 The pinlock latch is a great solution that offers:
A

positive latch system

- meaning the latch can never be accidentally "partially" latched.
Visual confirmation

that doors are latched...even from a distance.
Easy installation

in new stalls or existing stalls.
Multiple finishes

: brass, stainless steel and zinc.
You can order pinlock latches right from our website. Choose from brass, stainless steel or zinc finishes.
See the pinlock latch in action in the video below.