Newsletter: June 2010
---
Horse Stall Fashion: Part I
trends, styles and new ideas

The equine industry is much like the fashion industry, right? Okay, there are a FEW differences, but many similarities, too. For instance, horse people love to have the latest styles in the barn, will never pass up a hot accessory, and spend lots of time walking the runway...um, I mean aisleway.
Today I'm sharing some of the latest trends, styles and new ideas that we're seeing (and building) on the equine "runway" in barns throughout the world in Part I of this series. Next month, I'll wrap up the series with three more popular trends in horse stall design.
1. All-mesh is all-right.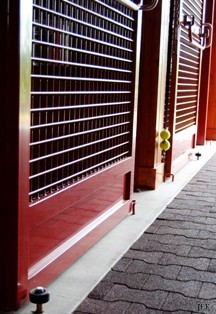 We all know that well-ventilated stalls are practical both for their health benefits and their versatility with foals, large breeds, minis, training horses, and others. But, now more than ever, smart consumers are selecting all-crosshatch mesh stalls that are durable enough to withstand years of abuse AND accentuating them with stylish features like extra-wide center rails, inset bedding guards and beautiful wood accents.

Below are photos of stalls with crosshatch mesh fronts. These customers have chosen accents that compliment the aesthetic of their stalls. See more crosshatch photos in our online gallery here.
There's more information about the difference in Lucas Equine Equipment crosshatch-mesh and other types of mesh here.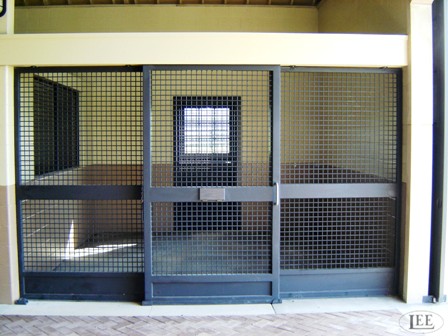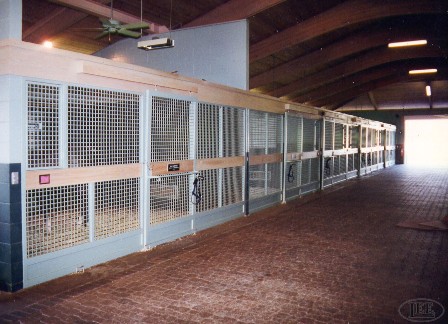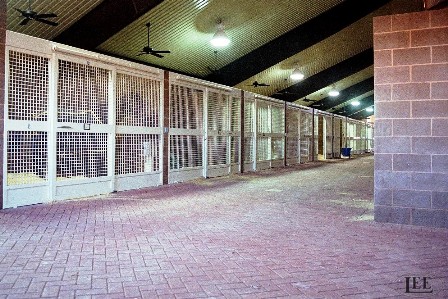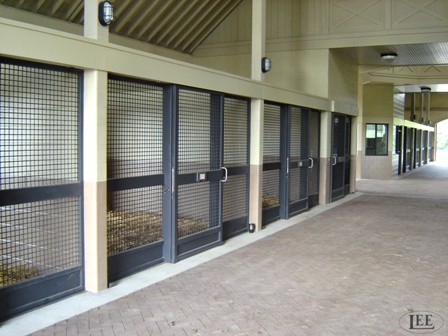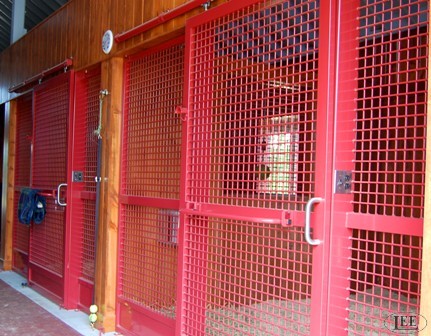 2. Built-in features for safety and time-savings.
Features such as built-in electric, built-in water, swivel feeders and feed doors are extremely popular in all types of barns, not only because they save time when it comes to handling barn chores, but also for the extra safety they can provide.
Incorporating these built0in features into the design of the stall can help keep some everyday hazards far from the reach of mischievous animals. The design experts at Lucas Equine can help integrate these features and others into the design of your stalls. See a few of our most popular features below.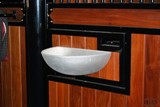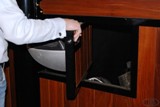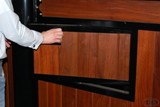 Built-in swivel feeder in action.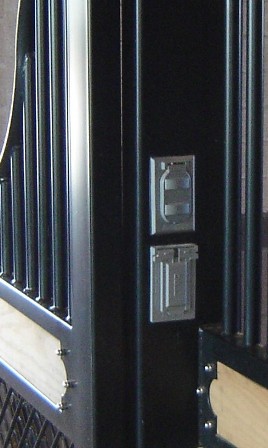 Built-in electric systems keep wires inaccessible by horses and hide unsightly wires and conduit.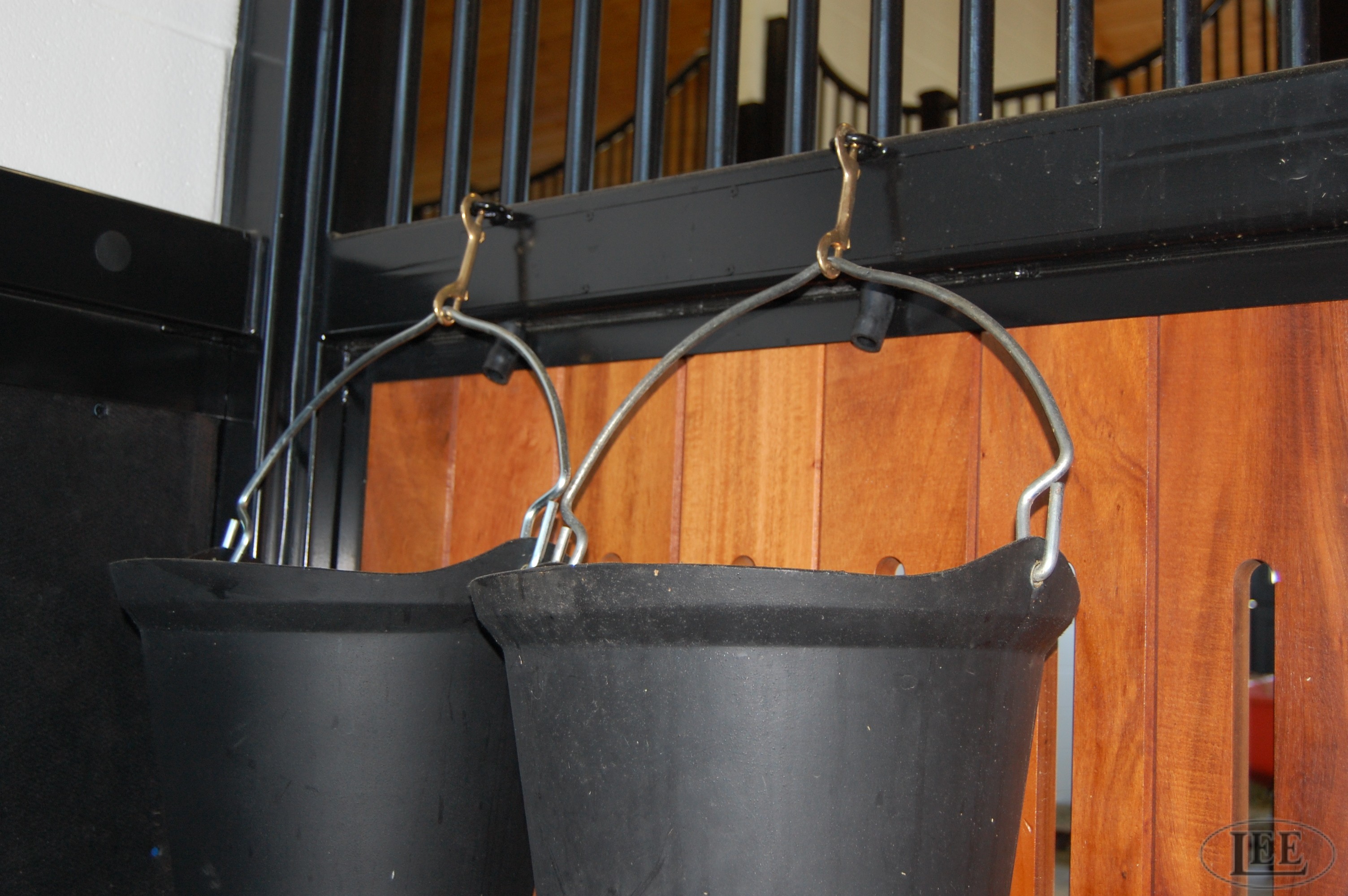 Built-in water systems are accessible from handles on the outside of the stall. Water pours into buckets on the stall interior.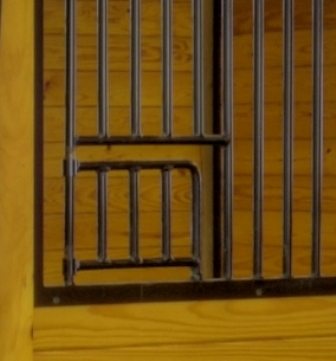 Swinging feed doors can be built in an unlimited number of shapes and sizes.

3. Being smart about upgrades.
In today's economy, everyone is shopping a little more intelligently. Stall design is no different. However, it is important to make sure you get the most style and durability for your money. That's why we're increasingly answering customers' requests to get the look of a high-end-style stall without blowing the budget...and without sacrificing quality.
This is where custom design can really make the difference in getting the most for your money. Our designers are helping owners, builders and architects streamline their stalls and other equipment to include just the elements that make the most visual and long-lasting impact.
Below, you'll see a barn that really exemplifies this current trend. Lucas Equine designers created a very straight-forward stall design featuring a grill top and wood bottom, with a simple decorative arch over each door.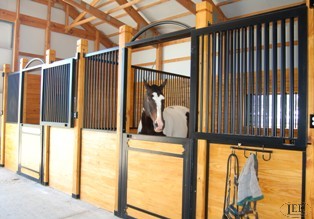 Because the stall door is the most functional part of the stall and takes the most wear and tear, this affordable Lucas Equine design still included high quality stainless steel hinges, spring bolt latches and steel tube framing to create a durable door that is easy to operate.
To accommodate a budget, the stall front featured simple, yet strong U-channels to accept wood planks, a sturdy grill top and steel chewguards to cover and protect the edges of the wood.
The farm owner, a woodworker by trade, designed and built the decorative wood posts himself to incorporate another style element at an affordable price.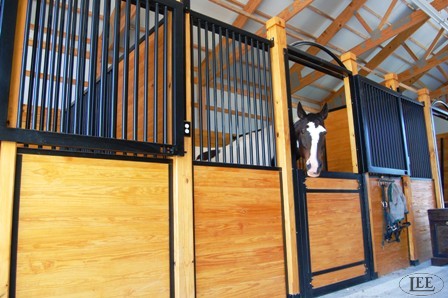 By seamlessly including the scalloped metal plate at the top and bottom of the lower stall door and using brass acorn nuts as accents, the Lucas Equine design retains the style elements that make the most visual impact as you enter the barn.

See the July 2010 newsletter for the next installment of Horse Stall Fashion!
---
Show Off Your Stalls
Winner: Ketchen Place in Rock Hill, SC

From Mary at Ketchen Place:
Thanks for making our barn safe, durable and functional! We have even dedicated an entire web page to illustrate why Lucas stall components "make" our barn.
Lots of light and air by design. Most stalls are on the shed row style wings. We opted for drop down panels on our aisle side doors. Dutch doors on the back side also have a screen so that both top and bottom can be open in warm weather. Light switches and outlets are built into the door posts. Beautiful sliding doors allow us to close off the center aisle. Two large foaling stalls have full screen fronts for visibility and can be observed from the tack room and the office upstairs.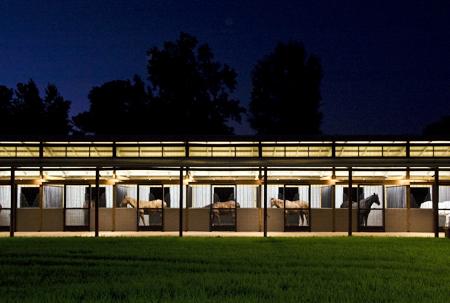 Ketchen Place barn at night.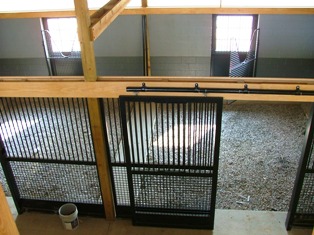 Foaling stalls.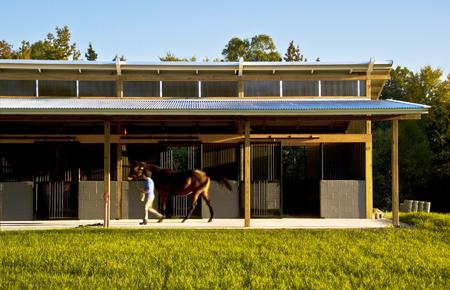 Ketchen Place exterior

Congratulations to Ketchen Place! As the contest winner, they're receiving a free fold-down Saddle Rack from Lucas Equine Equipment. You can read more about Ketchen Place Farm - breeders of Thoroughbred and Warmblood sporthorses - by visiting their web site at: www.ketchenplace.com.

---
Check Us Out in Print

Watch your favorite horse magazine for the latest ad series from Lucas Equine Equipment, featuring some of the seamless, flawless and timeless details we're so proud of.