Newsletter: July 2010
---
Horse Stall Fashion: Part II
trends, styles and new ideas

This is Part II of our write-up about trends in horse stall design. To read the first installment on this topic, click here.

Being so passionate about horse stall design, we eat, drink and breathe this stuff at Lucas Equine Equipment. That's why compiling top trends, styles and new ideas was pretty easy.
But, there are so many new ideas on the horizon! That's why we always welcome your feedback. And, when we're helping you design your new horse stalls, we ask a ton of questions to determine your needs, your horses' personalities, and the issues you want to avoid. Enjoy the final installment in this article on Horse Stall Fashion.
4. Panelized stall front systems.
A panelized stall front system is a self-contained stall front.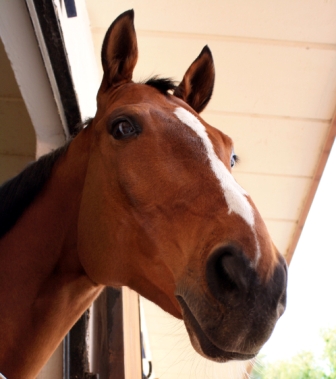 The stall door and front walls not only have the same look, style and materials, but are also free standing in a barn or mounted to support posts. This is different from a built-in stall, where actual walls (frequently of masonry or wood) are built into the barn, and then doors and windows are added separately.
Stall front panel systems have become more popular recently due to their versatility, cohesive style and easy installation. Below, you see some examples of stall front panels. These systems can be used in clearspan barns and don't require that builders create a special structure for stalls. Instead, the panel systems arrive from Lucas Equine ready to install. In many systems, the track is already mounted, installation holes are already drilled, and access for any future wood replacement has already been built-in.

In addition to the versatility and ease of installation, you can't beat the look of a panel system when it comes to consistency. A panel system matches the stall front walls to the look of the door exactly. This works for stalls with wood inserts, as well as highly ventilated stalls with an all-crosshatch mesh design.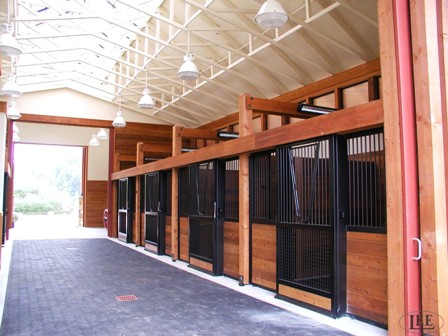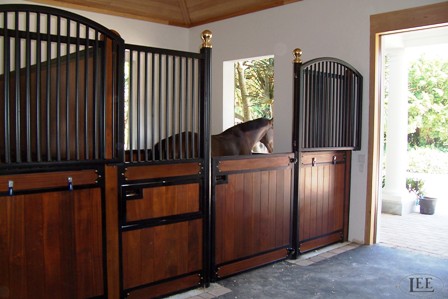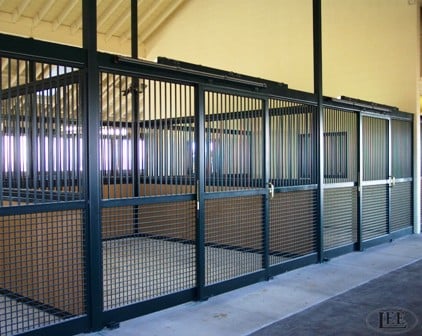 5. Dutch doors and exterior exits.
Dutch doors have been a staple in Kentucky barns for decades. But now, these functional and attractive exterior exits are found in barns all over the world.
These types of doors were originally designed for use in homes hundreds of years ago to let light and air in, while keeping the farm animals out. In Europe, you'll frequently hear this type of door called a "stable door."
Today, dutch doors are commonly used as an exterior stall door. When installed with a pre-hung stall screen, it serves three key purposes:
1. By opening the top portion of the dutch door, horses can stick their heads out for fresh air, sunlight and views of the surrounding landscape.
2. By opening either just the top portion or both portions of the dutch door, and keeping the screen closed, air is pulled from the center aisle through the stall and out the open dutch door. This is an excellent way to create ventilation.
3. Adding easily accessible stall exits - such as those created with dutch doors - allows for access to remove horses in cases of emergency, such as barn fires.
In addition to the benefits listed above, the classic styling of a high quality wood or steel dutch door can add a dramatic visual impact to a horse barn's exterior. See some of our favorite examples below, then check out our new dutch door photo gallery on our web site.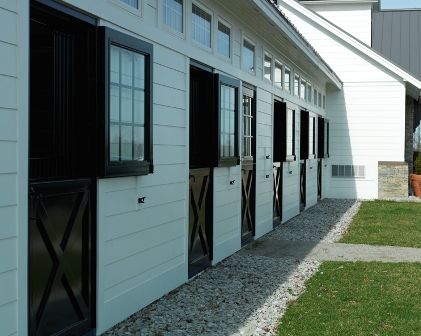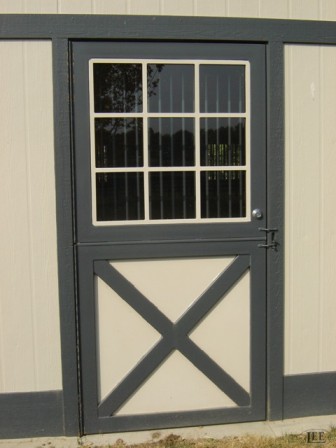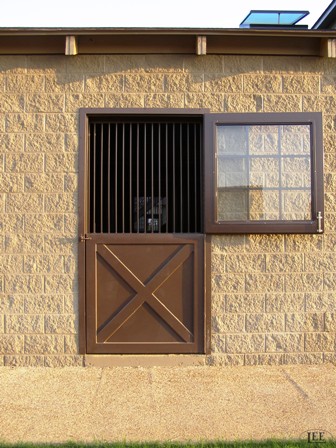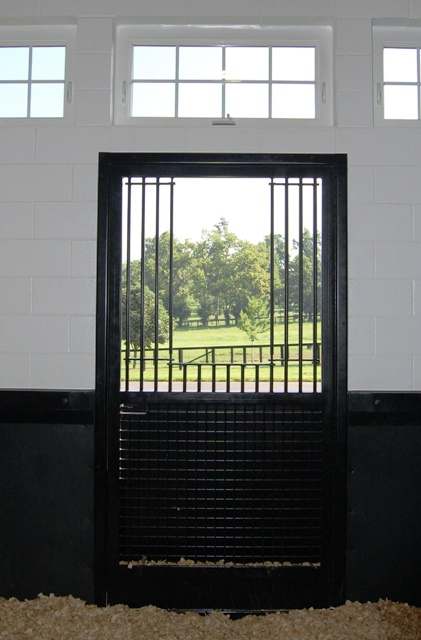 6. Focus on horse safety over aesthetics.
This is, obviously, the trend that we are most excited about! Today, serious horsemen, farm managers, amateur riders, architects, and barn builders everywhere are making horse safety their number one top priority when it comes to stalls.
This trend is showing itself through many popular features:
Safer grill spacing

Selection of strong and sturdy materials

Addition of exterior stall exits

Attention to proper ventilation

Positive latches (ones that can either be securely engaged or completely disengaged, but not partially secured. Examples include pinlock latches and Lucas Equine spring bolts.)

Wide aisleways

Gone are the days when some barns were created to be as airtight as our homes. These barns didn't offer enough ventilation for good equine health. Likewise, barns are now being created with open ceilings and high headers. Consumers are thinking more critically about their decisions on latches and door operation. They're checking out the designs in person and talking to people who have similar equipment. They're asking great questions about construction and material selection. Plus, designers at Lucas Equine, at architecture firms, and on construction sites are constantly coming up with ways to make our barns and equipment even safer.
Horse people are informed consumers, and that fact benefits the horses most of all.
You can visit other areas of our web site to read about more styles and trends, such as:
---
Real Life Stalls: Spotlight
Heavy Duty Style -- "Fritz-Proof" Stalls

- Asolare Farm in Greenfield Center, NY -
Kristin Grosso is a woman who knows what she wants. Owner of a private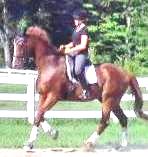 sporthorse facility just outside Saratoga Springs, New York, Kristin had a few key requirements when selecting stalls for her barn several years ago.

Designing Her Stalls
"I wanted a small barn that had the beauty and quality of the barns I had seen in Kentucky," says Kristin.
You can see in her barn photos below how she worked with Lucas Equine designers to design a system that incorporates the look she wanted with the features she needed.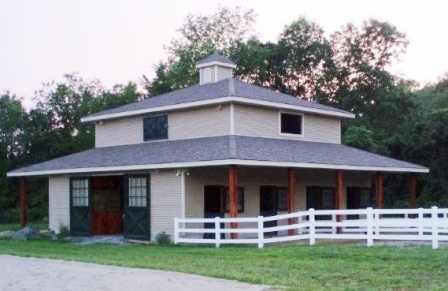 "I new from the start that I wanted that beefy six-inch steel frame on the doors," Kristin says. She had fallen in love with a similar photo on the Lucas Equine web site, then customized the design to really make it her own.
"We put mahogany throughout the barn, including in many of the doors and the stall dividers. I was looking for a unique style."
Four Years Later...
Kristin Grosso talks about her (very big) 17.3 hand horse, Fritz, who is a bit of a tough management case. "He's a complete destroyer," says Kristin. "He kicks and grates his teeth a lot in the barn. He has not succeeded at bending or denting one piece of this equipment, as hard as he has tried."
Everything works great. We use the fold-down yokes and the feed doors all the time.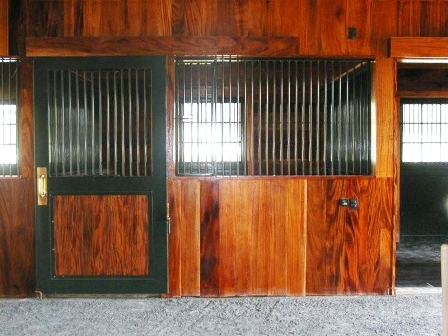 And, the wall panels with a U-channel have allowed us to move the stalls around several times over the years," notes Kristin about the features she chose to include in the design.
Most importantly, Kristin talks about the durability of her stalls. "The equipment is the strongest I have ever seen. And, the powder coating on it looks as new as it did when we put it in."
Words of Wisdom
When asked what advice she would give others in the process of selecting their stalls, Kristin says, "The only thing that would have been better is if I had chosen the option of a dutch screen with our dutch doors, instead of just the removable bars, for a more versatile ventilation."
Barn Stats:
Six stalls

6-inch steel frame powder coated green

4 stalls with mahogany wood inserts; 2 stalls with crosshatch bottom

Feed doors

Fold-down yokes

Exterior dutch door in each stall leading to small turnouts

Stall dividers with grills on top, mahogany on bottom

U-channels in stall dividers allow stalls to be repositioned

Why She Chose Lucas Equine
"We chose Lucas Equine for the ability to customize all the equipment to exactly what we wanted, and a customer service and sales team that is without question the most knowledgeable, helpful, patient and nice. We just had a great time working with you guys on designing our barn."

To read more about Kristin's facility and her work in the equine industry, visit her web site at www.sportequinemarketing.com.
---




Are You Coming to Kentucky for WEG?

What better time to visit the Bluegrass state than during the 2010 World Equestrian Games...
As the best of the best land at the Kentucky Horse Park in Lexington for the 2010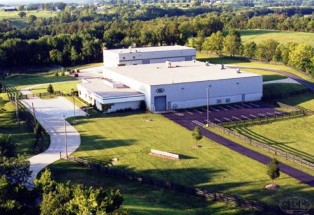 World Equestrian Games, you'll want to be here for sure.
While you're in Kentucky, we're inviting you to visit us at our manufacturing facility for a free, personalized factory tour. We're located less than 30 miles from the Horse Park!
Tour our showroom, featuring a wide variety of door designs, style and colors.

Follow a sample project from the creation of the CAD drawing through completion, including cutting, welding and grinding.

See first-hand the strength of our unique crosshatch mesh design.

Spend some time with our design experts to learn about new ideas and styles in horse stalls.

Schedule your tour near lunchtime, and you'll join us at Biancke's Restaurant - a Bluegrass institution, serving downhome-style meals since 1894...famous for their fried green tomatoes and homemade cream pies!

Fun tour for horse owners, farm managers, architects of buiders.

Receive a give your tour.
Click here to make reservations for your free Lucas Equine Equipment factory tour!

Our stalls, doors and equipment are in use at most of the major Thoroughbred farms in Kentucky. You can book WEG farm tours for the facilities listed below and more through Horse Capital Tours.


Cobra Farm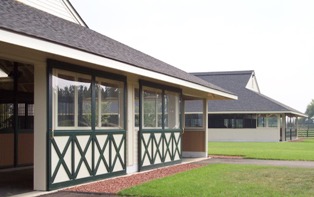 Darby Dan Farm
Jonabell Farm
Lane's End Farm
Millennium Farm
Rood & Riddle Vet Clinic
Three Chimneys Farm
Winstar Farm