Boredom can be dangerous for horses. Stabled horses who are bored can begin cribbing or kicking. Sometimes, bored horses can develop anxiety or depression. However, some stabled horses really enjoy their time in their stall. Activity is one of the key differences in having a happily stabled horse and an unhappy one.
Below, read about five ways to help keep your horses loving their life in the stall.
1. Turn them out everyday.
This is really one of the best ways to fight boredom. One way to make turnout easy is to create turnout areas attached to each stall. Horses can access the turnout area via exterior stall doors. These areas can be designed in a multitude of ways. See one example of an attached turnout area below.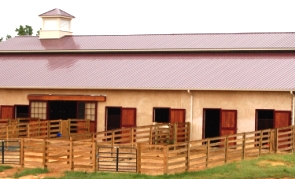 2. Ensure there's plenty of natural light.

Horses love to be outside, so designing their stalls to offer natural light (whether through exterior dutch doors, windows or skylights) gives them a taste of the sunshine everyday.

3. Clean stalls regularly.

No one likes to be in a messy house. A horse stall is no different. Regular cleaning and mucking not only keeps your horse more content, it also helps prevent respiratory infections.

4. Remember the buddy system.

Horses are herd animals. That's why many horses can benefit from being able to see fellow animals, whether it's through a yoke cut-out, an exterior window or stall partitions. This sense of companionship can ease the anxiety of some horses. Remember your horse's personality when it comes to this tip, though. It's not for everyone.

5. Offer distractions.

This last point can be debated. All toys are not suitable for all horses. However, in some instances, a toy that dispenses a treat when rolled the right way or even a more simple toy can offer a good challenge for a stabled horse.

We all want to keep our horses happy and healthy. Keep these tips in mind when building or maintaining the stalls in your barn.