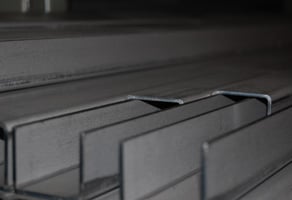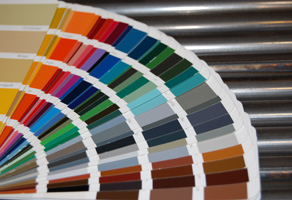 Materials
To maintain our high quality standards in the horse stalls and barn equipment we build, Lucas Equine Equipment chooses materials that will be both durable and beautiful. We also frequently use unique materials selected by our customers to coordinate with other architectural elements.
Some key materials used in many Lucas Equine Equipment horse stall and barn products are explained below:
Cold Rolled Steel

. This durable type of steel creates an ultra-smooth surface on which to apply a finish. It offers a much more consistent surface than other types of steel. It is frequently used in the crosshatch sections of stalls and gates. This is one element that helps Lucas Equine Equipment create such flawless finishes.

Stainless Steel

. Many of our hardware selections can be chosen in stainless steel. Stainless steel is corrosion-resistant and very tough. Some stainless steel hardware can be coated with an oil-rubbed or brushed finish.

Brass

. Most hardware and many accessories are available with brass construction. This brass can be polished and/or lacquered to further enhance the appearance or durability.

Domestic Hardwoods

. Yellow pine, douglas fir, and other traditional types of wood can add a rich, warm look to your stall equipment, doors and gates. Lucas Equine Equipment has a sophisticated in-house wood shop with expert craftsmen who use high quality wood to create our beautiful product.

Read more about hardwood selection by clicking here.




Exotic Hardwoods

. With a diverse selection of exotic hardwoods from all over the world, Lucas Equine Equipment can incorporate your choice of exotic woods into your stall equipment. Looking for eco-friendly options? You can choose from exotic hardwoods that are renewable and harvested in a sustainable manner.
Finish Options
At Lucas Equine Equipment, we take pride in the consistent beautiful finish we give our products. Our meticulous coatings experts can help you select the most appropriate finish for your needs, environment and style.
We offer a vast array of color options, plus custom color formulations. Our nine standard colors come in a Super Durable Powder Coat Finish, offering a highly weather-resistant and UV-resistant finish.
Click here to view our nine standard colors.

Lucas Equine Equipment offers four types of finish options for your custom-built items:
Click here for in-depth information on the pros and cons and details of Powder Coating, Hot Dip Galvanizing and Wet Painting.